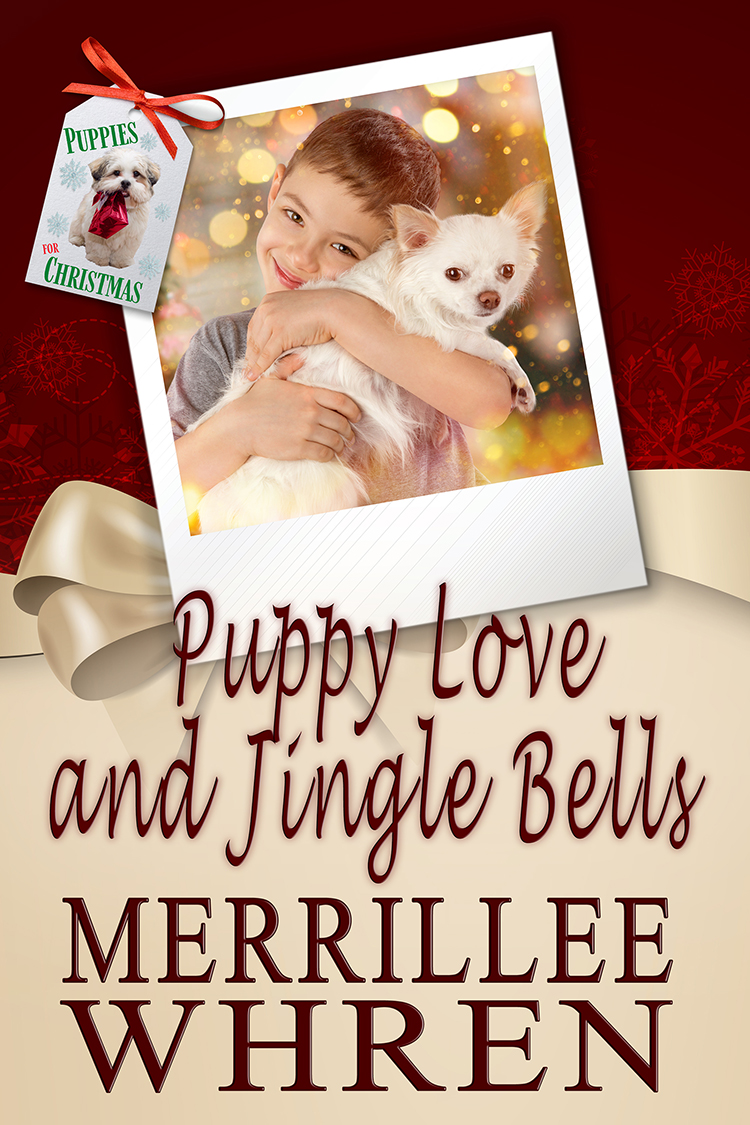 Happiness in Hallburg #2
October 22, 2020

Puppy Love and Jingle Bells
When elementary school teacher Sedona Welch sets a goal to lose fifteen pounds, she doesn't expect to barter her tutoring services in exchange for personal training, especially with a handsome personal trainer.
Cody Dunn has all he can deal with taking care of his eight-year-old nephew, Mason. Cody finds an ally in Sedona as she helps him negotiate the guardianship of this troubled boy. But he doesn't anticipate his nephew's love for a cute little puppy or his own attraction to Sedona.
Can well-meaning friends, a little boy, and a puppy help this reluctant couple find love at Christmas?
Chapter One
Lose fifteen pounds. The words blurred as Sedona Welch stared at the small piece of paper in her hand. She took a deep breath and folded it in half. Her goal was anonymous, but she would know. And God would know. Could she keep this promise to herself?
The little basket made its way down the row of folding chairs where she sat in the church's all-purpose room. Smiling, the lady next to Sedona handed her the basket. She wished she felt as good about this as the smiling lady.
Instead doubt, fear, and anxiety filled Sedona's mind. Where was her faith? Faith that God would help. Faith that her friends would help. Faith in herself.
Sedona shook away the troubling thoughts and dropped the paper into the basket. She could do this. She might have failed before, but not this time. This time would be a success.
As she listened to the closing prayer, she wondered what the other ladies had put on their papers. The Bible study leader had challenged them to step out on faith and rely on God to meet the goals they had set. Maybe that was why she had failed before. She'd been relying on herself alone.
As the gathering broke up, conversation buzzed around Sedona. She didn't feel like talking as she picked up her purse and Bible. She wanted to make a hasty exit before anyone could ask her about her goal. Before she reached the door, someone called her name. Sedona turned.
Her friend Jenna Bowen came running Sedona's way. "Wait."
Sedona manufactured a smile, hoping Jenna wasn't going to quiz her about the goal. "Hi. I didn't know you were here."
"Yup. I snuck in at the last minute." Jenna stopped to catch her breath. "I'm so glad I caught you."
"What's up?" Sedona asked.
Jenna tucked her light-brown hair behind her ears. "I've been meaning to talk to you."
"About what?"
"My mom has a neighbor who's looking for a tutor for an eight-year-old boy. Would you be interested?"
"I'm not sure. I'd have to think about it." The thought of taking on another tutoring job didn't excite Sedona. Only a couple of weeks into the new school year, she had a lot on her plate with having to learn the curriculum for a new grade. And her current tutoring job filled two nights each week.
"Let me take you to lunch, and we can discuss it. Derek and the boys have ball practice, so I'm free." Jenna pushed open the door.
Matching Jenna's steps, Sedona walked toward the parking lot. Was this a test of her willpower already? "Okay, but no promises on the tutoring."
"Fair enough." Jenna pointed to her car. "Let's eat at that place over on First Avenue."
"Sure. I'll meet you there." Sedona hurried off to her car and gave herself a pep talk about ordering something light.
As she walked into the restaurant with its checkerboard black-and-white floors, she sent up a silent prayer. She had to get off to a good start. She slid into the booth with the red faux-leather seats and smiled as Jenna sat across from her.
Jenna grabbed the menus and handed one to Sedona. "So how's the new school year going?"
"I have a pretty good class so far." Sedona studied the menu.
"No troublemakers this year?"
Sedona chuckled. "So far none of the kids has glued my paperweight to my desk."
"Yeah, I couldn't believe that one. Who would think a kid was out to get the teacher the first week of school?"
Sedona nodded. "I knew what I was in for with that class immediately."
"I'm glad this year's class seems to be better."
"I can hope fourth graders are less mischievous than fifth graders."
Jenna laid her menu aside. "Care to share your goal?"
No. The response popped into Sedona's mind immediately, but Jenna was her best friend. They'd been friends since they were in elementary school when Sedona was the new kid after her parents had moved to Hallburg, Maryland, outside of Baltimore. How could she expect not to share with her?
Sedona shrugged. "You know me. Always trying to lose weight. I want to lose fifteen pounds before the Winter Cotillion. A pound a week should get me there."
"Why the Winter Cotillion? Do you have a date I don't know about?"
Sedona shook her head. "No, but my cousin who works in a fashion house in New York City, sent me this gorgeous red dress. It was a sample, but it's too small. I'm not sure why she thought it would fit me, but I'm determined to wear it to the dance, date or no date."
"Have you ever thought about getting a personal trainer?"
"Who can afford one of those?" Sedona shook her head, not even considering such an option. "What about your goal?"
"I'm going to go back to school and get my degree in accounting."
Sedona grinned. "That's fantastic. Are you going to keep working at the vet clinic?"
"Yeah. It won't be easy juggling school and work, but Derek thinks I should go back and promised to help keep things running smoothly at home."
"It's good that he's on board."
"For sure!"
As the waitress came to take their orders, Sedona looked for what she thought would be the healthiest choice. She ordered the grilled chicken when she'd rather have a burger and fries. Her better choice was a start in the right direction.
After the waitress left, Jenna leaned forward, her expression serious. "Let me tell you about this tutoring opportunity."
"Okay. You said an eight-year-old boy?"
"Yeah. The boy and his uncle have just moved in next door to my mom."
"Boy and his uncle?"
Jenna nodded. "Let me tell you the sad story. The boy was mistreated by his mother, who is a drug addict. The boy's dad had skipped town when the kid was just a toddler. He was going to be sent to foster care, until the uncle stepped in."
"Wow! That's terrible." Sedona frowned. "Is the boy really behind in school?"
"I don't know for sure." Jenna grimaced. "To be honest, the uncle hasn't really signed on for tutoring, but my mom is trying to convince him that would help."
Sedona didn't know what to think. Had Jenna's mom butted in where she wasn't wanted, or had the uncle asked for advice? "So how did this conversation come about?"
"The boy threw a rock and broke Mom's window."
"Oh wow! That's one way to meet your new neighbor." Sedona shook her head as the waitress delivered their food.
Jenna offered to give thanks, and Sedona bowed her head and asked for wisdom about this situation. Obviously, this child needed some guidance. Did she want to get involved? When the prayer was over, she took a bite of her chicken. It was good, but not as good as a burger and fries.
"So what do you think?" Jenna took a bite of her southwest salad.
"How can you think of asking me this when the uncle isn't even on board with the tutoring?"
"Mom was hoping you'd agree to talk to him. She suggested inviting you, the uncle, and the boy for dinner." Jenna gave Sedona a hopeful look.
Sedona sighed. Another invitation to eat out. Just what she didn't need, but shouldn't she do a good deed for an unfortunate child? "I guess it won't hurt to talk to them."
"Great. I'll let Mom know, and she'll be in touch about the date."
Sedona quizzed Jenna about her school plans, which included online courses, but the plight of a child who had dealt with a less-than-stellar home life intruded on her thoughts, grabbing hold of Sedona and not letting go. How could she turn away from a child in need?
back to Top